With summer coming up and even now for some people (Which I am super jealous about!). All the best movies of the year are coming out soon or have already come out! I am hoping to make this post a before and after post. I am going to put my top 10 movies that I want to see this summer and then give a total review at the end of the summer! So what are my top 10 movies on my summer must see list? (By the way I am doing it in release order because I can't pick favorites yet!)
The Other Woman, is a hilarious comedy about Carly (Cameron Diaz) discovering that her boyfriend, is hiding a secret. That is he is married to (Leslie Mann) and after the two meet, they begin their plan of revenge. Until they meet (Kate Upton) another mistress, who joins in on this plan. I am looking forward to seeing the adult version of
John Tucker Must Die
.
The Neighbors (Family v.s. Frat), I am looking forward to see the shirtless Zach Efron and the hilarious Seth Rogen as they become neighbors and the war begins! I know it wouldn't be the most intelligent movie ever, but it sure could be one of the funniest! Plus Dave Franco is in it too!
Million Dollar Arm, I can't wait to see this movie, because it looks uplifting and inspiring. Disney, which I love, always does a wonderful job with movies based on true stories. I also am excited to see the movie because it is baseball and to me summer means baseball.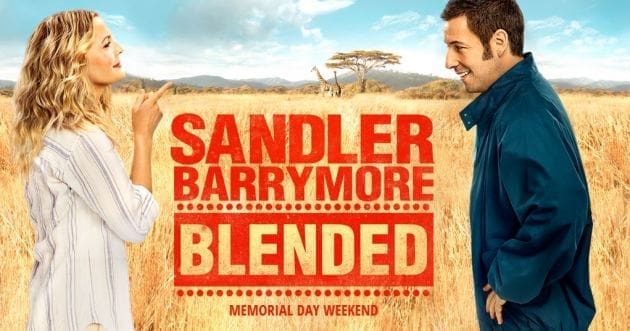 Blended, the comeback of the funny team of Sandler and Barrymore, first being
50 First Dates
. This movie is about two single parent families ending up on a "Family Honeyingmoon" in Africa! After the two went on a terrible date, they get to spend a wonderful family holiday together. This is sure to be a funny movie that will be remembered.
A Million Ways to Die in the West, a stupid and "pee your pants funny" movie from Seth MacFarlane who is the man behind
Ted
and
Family Guy
. This almost modern and hilarious western movie that from the previews seems similar to Mel Brook's
Blazing Saddles
!
Disney's Maleficent is a must this summer for every Disney fan. The other side of the classical fairy tale: Sleeping Beauty. I know I have and others are probably wanting to know what was Maleficent's motif and her early connection with Aurora.
The Fault In Our Stars, based off the novel by John Green (Lives in Indiana- Reping the Hoosiers). It is a modern day love story about Hazel, a 16 year old cancer patient, and Augustus, also a 16 year old cancer patient, but in remission. The novel/movie is all about living in the moment and what love is really about.
22 Jump Street, the anticipated sequel to 21 Jump Street. The movie starts off with a twist, "the only problem is that the Koreans bought back the church so we are moving you across the street, to 22 Jump Street." From there the boys go undercover, but this time they are going to college. This is sure to be hilarious and live up to the first movie.
Tammy= Melissa McCarthy=Funniest Woman Alive! That is all that is needed and I know it will be amazingly funny!
If I Stay, coming sometime in September and stars Chloë Grace Moretz. She is an average teenage girl wanting the guy of her dreams to notice her, but also musically talented along with her family. But one second changes her life, when her family dies in a car crash and she has to decide "If I stay" and come out of the coma which she is in, and looking outside on the world. It seems like a similar idea to
Just Like Heaven
, so hopefully it is good!
I can't wait to see all of these amazing movies!! :)